We've been developing, and here's what's new.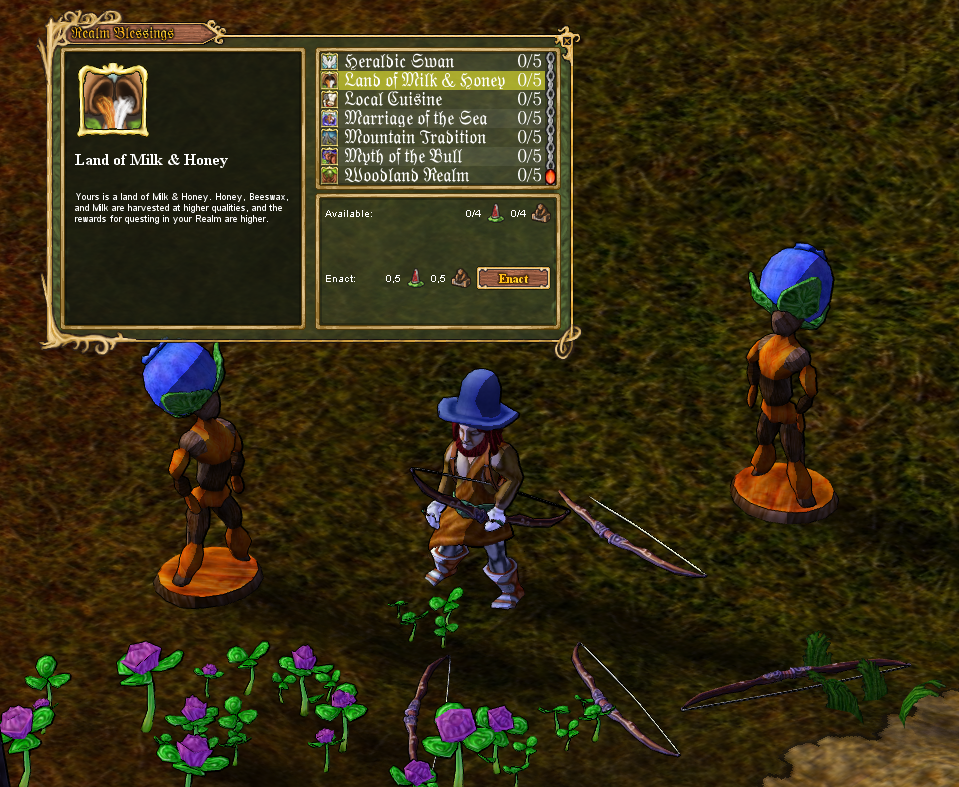 New Implementations
-----------------------
Added "Land of Milk & Honey", realm blessing. "Yours is a land of Milk & Honey. Honey, Beeswax, and Milk are harvested at higher qualities, and the rewards for questing in your Realm are higher."
Added/Re-added "Ranger's Bow", from Legacy. Ranger's Bows deal more damage, and have longer range, than Hunter's Bows, but aim slower.
Added "Felt Hat", hat.
Key Fixes
-----------------------
For Oak Stance, Death or Glory, Combat Meditation and Bloodlust, inverted the effect of disparity in combat stats between you and the opponent(s), so that you get a better effect from them the better your opponent is, rather than the other way around. This primarily to reduce the effectiveness of alts.
Small Fixes
-----------------------
Animals should now break objects as they flee.
Can no longer open a UI for milestones without trails.
Added Weapons tooltips to Bows, Slings and arrows.
Buffed the Skull Throne to be on par with a normal Royal Throne.
Rabbits should no longer leave easter eggs.
Potter's Clay now requires two bricks, rather than one. Not sure if this fix is relevant, or if Potter's Clay is too broken irrespective of this? Does bone clay still have a place? Let us know.
Increased the post box inventory.

As always, if you liked what we did here: Support the patch.
Today's Patch Item, for the fair price of $10, is the "Blueberry Hat".
Store Description wrote:

$10

A sweet hat to keep the blues away.
All Gold & Silver subscribers have been awarded the Blueberry Hat, free of charge.
In the Pipe
-----------------------
Enjoy!