We've been developing, and here's what's new.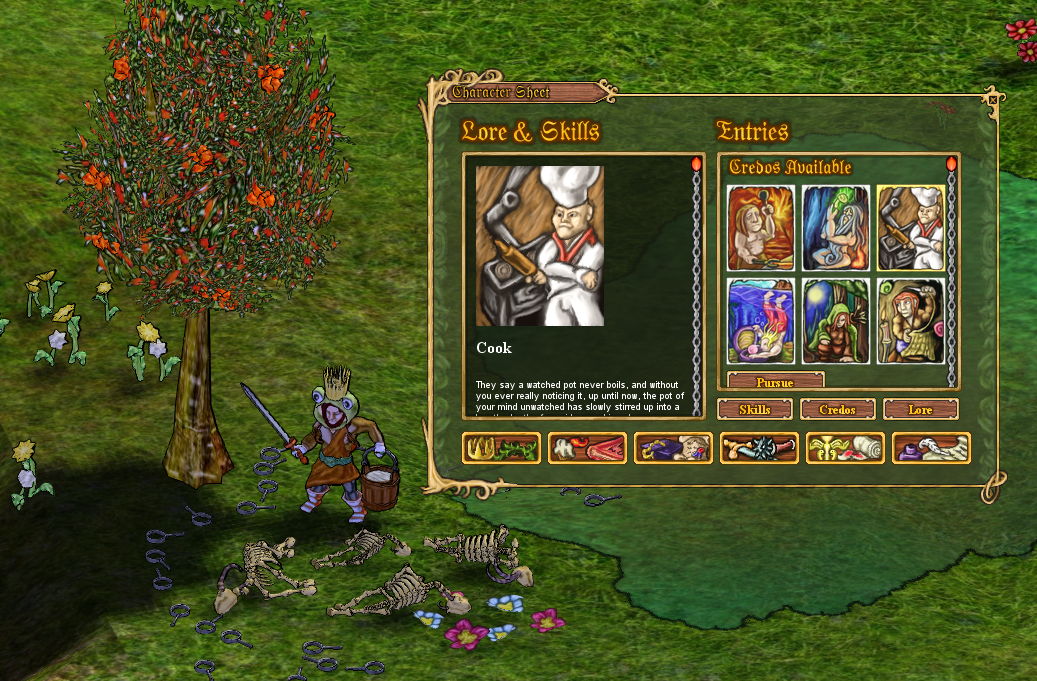 New Implementations
-----------------------
Added "Magnifying Glass", curiosity. Suggested here.
You may now draw water from deep tiles next to you.
Added skeletons to Billies, Nannies, Kids and Wildgoat.
Credos
-----------------------
Cook:

They say a watched pot never boils, and without you ever really noticing it, up until now, the pot of your mind unwatched has slowly stirred up into a hearthy broth of new ideas and impulses, threatening now in stormy boiling to blow the lid clean off entirely. You take no greater pleasure in life than from cooking; from combining the myriad ingredients of game and fowl and fish alike, into new creations, the one more dazzling and fantastical on the tongue than the next, and you have perhaps even begun developing a bit of a reputation for your work with knife and ladle. The blood of the first Hearthling was made from red clay, boiled in water, and seasoned with the breath of life, by the Old Gods. Stirring the Cook's Pot promises...




Increased speed when cooking.
Constitution +15
Quality bonus when cooking.
Cooking +30
Chance to double the output when cooking.

Cook depends on Farmer and Hunter.
Small Fixes
-----------------------
May have fixed a bug by which livestock would sometimes become unlikely to reproduce.
Fixed a bug by which vines could spread to claimed tiles.
Fixed a bug by which items would sometimes not decay properly in caves.
Added a slight drift to anchored Knarrs. They will stay near the spot they were parked at, but may drift slightly.

As always, if you liked what we did here: Support the patch.
Today's Patch Item, for the fair price of $10, is the "Frog Prince", suggested
here
.
Store Description wrote:

$10

Never did you look more eminently kissable, than when you donned this crowned amphibian!
All Gold & Silver subscribers have been awarded the Frog Prince, free of charge.
In the Pipe
-----------------------
Enjoy!