We've been developing, and here's what's new.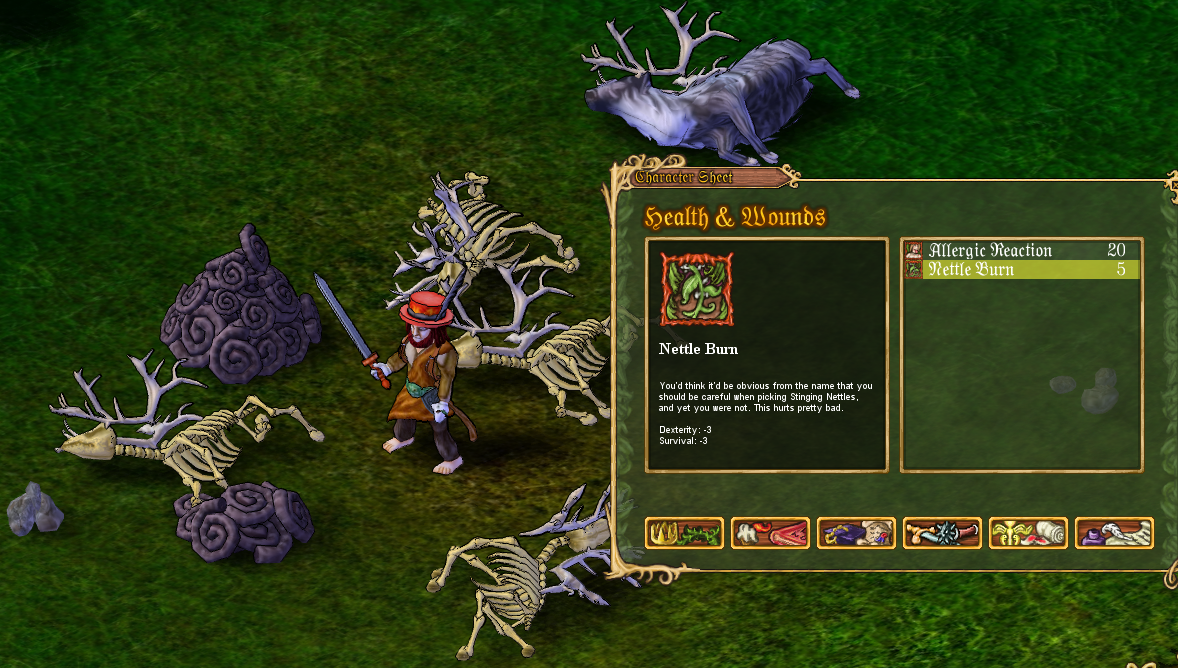 New Implementations
-----------------------
Added Reindeer skeleton.
Added one new cave fish.
Added one new experience.
Added stockpiles for everything, infinite capacity... or at least for Petrified Seashells.
Added new wounds: "Allergic Reaction", "Nettle Burn".
Small Fixes
-----------------------
Fixed a terrain border problem with water tiles in beaver dungeons always having walls.
Added a terrain object for "Lamp Stalk".
Material accounts for fresh hides should now say "Fresh Hide", rather than "Rabbit Fur", or some shit like that.
Material accounts for Rabbit Does should no longer say "Rabbit Buck".
Chasm Conch should now accept peace when huddled inside its shell. Some other minor changes as well.
Made it so that, when bandying, if one person walks away from the bandy interaction, the other person will still get to keep the bandy inventory open until he/she him/herself moves. Noticed when streaming.
Fixed a small bug when bandying leashes.
Fixed a small typo in the Kelp Cream description.
Added a stockpile for petrified seashells. Suggested here among other places.
Waybroad and Royal Toadstools can now be put in a wicker picker. Suggested here.

As always, if you liked what we did here: Support the patch.
Today's Patch Item, for the fair price of $10, is the "Bossa Nova Red".
Store Description wrote:

$10

Go gently into the night, don a flame of soot and crimson, and let the music ride you.
All Gold subscribers have been awarded the Bossa Nova Red, free of charge.
In the Pipe
-----------------------
Enjoy!