We've been developing, and here's what's new.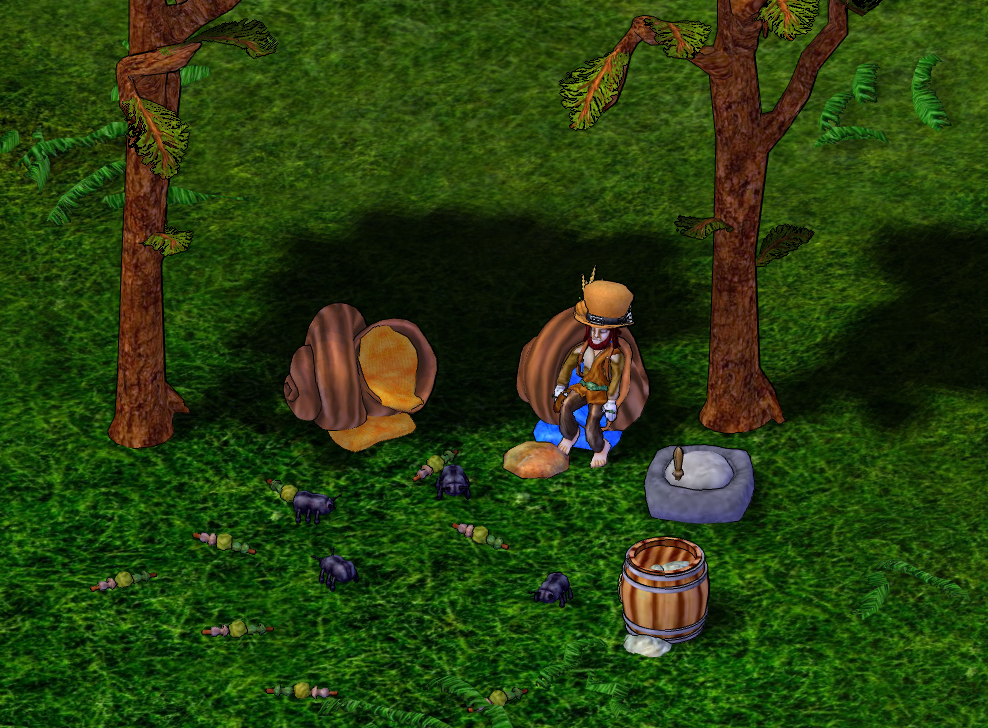 New Implementations
-----------------------
Added "Conch Chair", seating.
Added "Chitin Powder", Cave Louse Chitin can now be ground into powder.
Added "Scarab Talisman", curiosity.
Added "Cave Skewer", food.
Key Fixes
-----------------------
We have attempted to improve Valhalla in some significant ways, to hopefully make it more useful for combat testing.
Set attributes, equipment, and combat decks are saved specifically for Valhalla, and should be the same between sessions. Note that they are not saved per character, but globally for the account.
You have a special ability which can be used to arbitrarily set your combat attributes, within 10-10k without the need for eating from the giant pig. You can not use this ability in combat.
There is a well near the spawn area, and waterskins can be found in the refuse. You may also find quivers full of arrows, and ranger's bows.
You have all combat discoveries and maneuvers available to you.
Base inventory is larger.
You can right-click items to set their qualities.
Feel free to suggest further improvements.
Small Fixes
-----------------------
Fixed a bug with windows borking.

As always, if you liked what we did here: Support the patch.
Today's Patch Item, for the fair price of $10, is the "Autumn Bounty".
Store Description wrote:

$10

All the bounty of the season, with pumpkins, and barley, and cobwebs glittering.
All Gold subscribers have been awarded the Autumn Bounty, free of charge.
In the Pipe
-----------------------
We have noticed that forts abusing the visitor debuff to provide temporary dodge-in-and-out safehavens are a thing in combat, and don't like that much. We have considered a fix for this problem, which would basically imply giving gates three states: Open, closed, and open for visitors. If the gate is open for visitors, you can enter and get a visitor debuff, but you cannot enter while in combat. If the door is open, you, and anyone, can enter, quite simply, without receiving a visitor debuff. Presumably it would take some time to switch to or from the open for visitors stage. Let us know what you think.
The main dev focus is the client rendering rewrite, and patches will be small until that has been completed.
Time to... like us on Facebook?
Enjoy!