We've been developing, and here's what's new.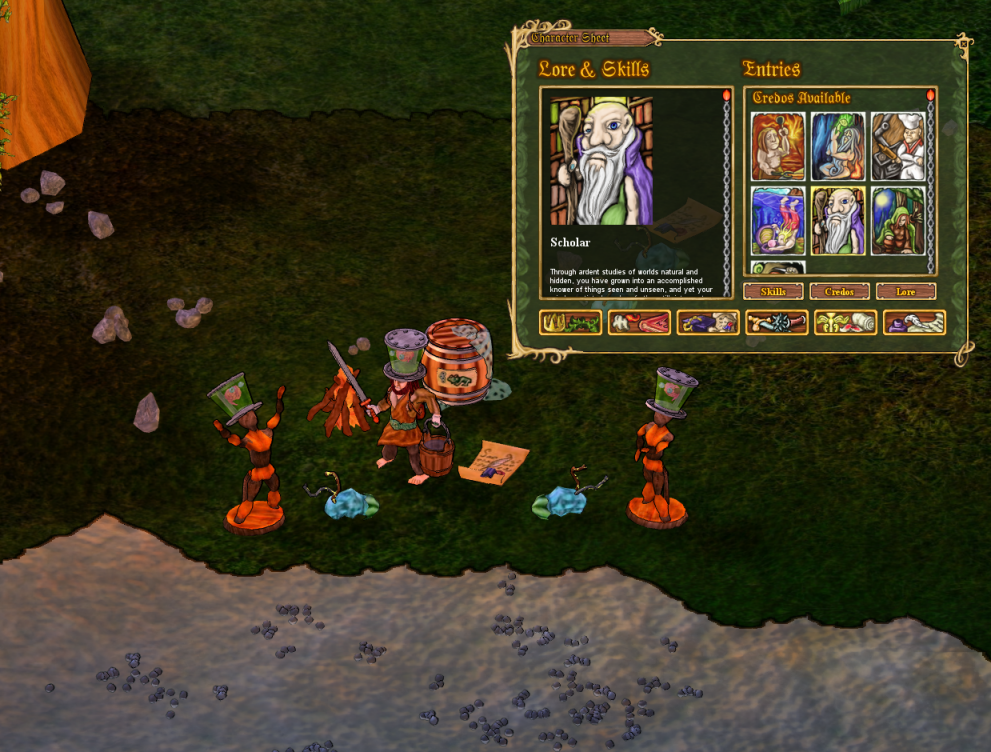 New Implementations
-----------------------
Added "Scholarly Accounts". Scholars can create written accounts of any curiosity, which, then, can be studied as curiosities in their own right. You are limited in terms of how many scholarly accounts you can produce per unit of time, and you can only make accounts of a particular curiosity some slightly random number of times.
Added "Cave Battery", curiosity.
Added "Frogspawn", curiosity, herb.
Credos
-----------------------
Scholar:

Through ardent studies of worlds natural and hidden, you have grown into an accomplished knower of things seen and unseen, and yet your mind unsatiated reaches further still, into vast troves of wisdom yet unsounded. You have, lately, in love of knowledge, felt the beckon of a new calling, and wisdom becomes every day more and more an end in itself to you, apart from pratical application. You are a mentor to the young, a wise elder, or a recluse in exile among tomes and parchments, and only seldom one finds your fingers without a trace of ink, or the dust of old manuscripts. The old texts speak of a time before the Hearth was lit, when it burned only as a spark in the eyes of the old gods. From the first curiosity all knowledge took flame. Learning the Scholar's Wisdom promises...




Intelligence +15, Lore +15
Small chance to avoid consuming studied curiosities.
'Contemplation & Meditation' cost reduced by half.
Extra row and column on your study table.
Ability to create Scholarly Accounts.
Scholar depends on Gardener, Mystic and Quarryman.
Small Fixes
-----------------------
Fixed a bug with the visitor debuff toggle not working for mounted players.
Fixed a bug by which it was possible to try to teach people seen through a Troll's eye.

As always, if you liked what we did here: Support the patch.
Today's Patch Item, for the fair price of $10, is the "Brain in a Jar".
Store Description wrote:

$10

Have you ever felt like you needed some extra brainpower? Here's your chance to catch an upgrade!
All Gold & Silver subscribers have been awarded the Brain in a Jar, free of charge.
In the Pipe
-----------------------
Enjoy!