We've been developing, and here's what's new.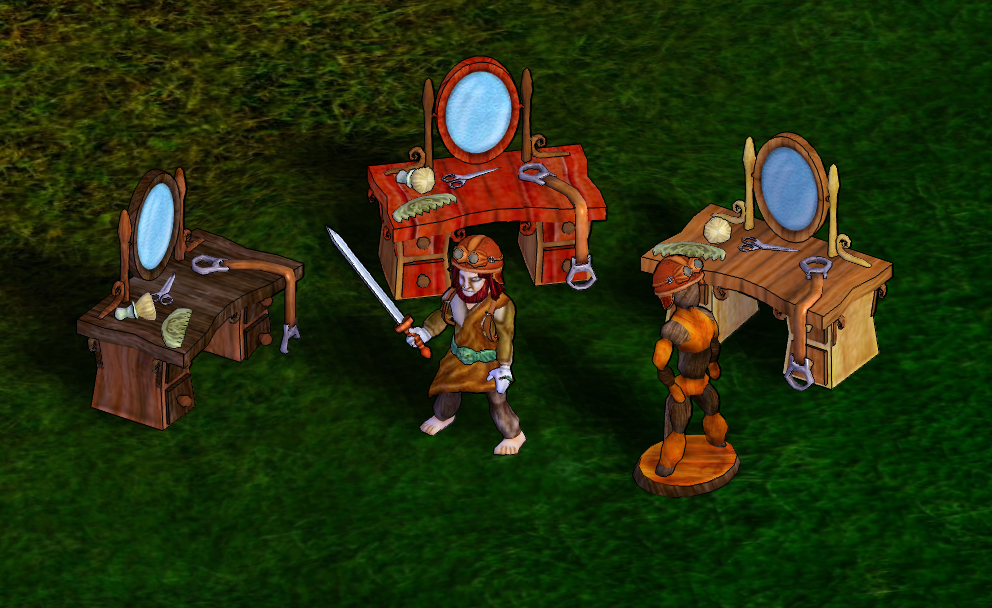 New Implementations
-----------------------
Added "Dressing Table". The Dressing table can be used to set new hair and beard styles. Try out the style you want, and press "Commit" when you want to actually set it. Do note that you need to have an appropriate amount of hair grown to set a particular hairstyle, which takes some time, so you can't just switch willy-nilly.
Added a separate "Wild Honey" for wild beehives.
Key Fixes
-----------------------
Fixed a bug by which you could hearth home with stolen things carried overhead.
Fixed a bug by which you could, obscurely, come to watch through a portal (road, or the like) without the portal displaying a Fishy eyeball.
Small Fixes
-----------------------
Fixed a bug by which losing your bait would cancel fishing.
Fixed a bug by which studying Cave Slime would not complete quests asking you to do so.
You may now claim ownership of any Ancestral Shrine if the previous owner is dead.
Fixed bugs by which the Ancestors could ask for spitroast Chasm Conch, and Rainbow Pads.
Fixed a bug by which Beaver Kings could drop their Heart Container rewards behind the exit doors.
Beeswarms now have 100% armor penetration, meaning that armor does not matter when fighting them, and that they do not hurt armor.
Beeswarms now have a cooldown before they start attacking.
You can now melt ten honeycombs into one beeswax, but no longer get beeswax per se from wild beehives.
Honeycomb is now a wall item.
Beestings are now somewhat cumulative, and additional beestings have some chance of building upon a previous one.
Added some sort of sound effect to beeswarms and wild beehives.

As always, if you liked what we did here: Support the patch.
Today's Patch Item, for the fair price of $10, is the "Goggled Helmet".
Store Description wrote:

$10

The latest in aviation and biker looks. Automatic bugwipes not included.
All Gold subscribers have been awarded the Goggled Helmet, free of charge.
In the Pipe
-----------------------
Enjoy!