We've been developing, and here's what's new.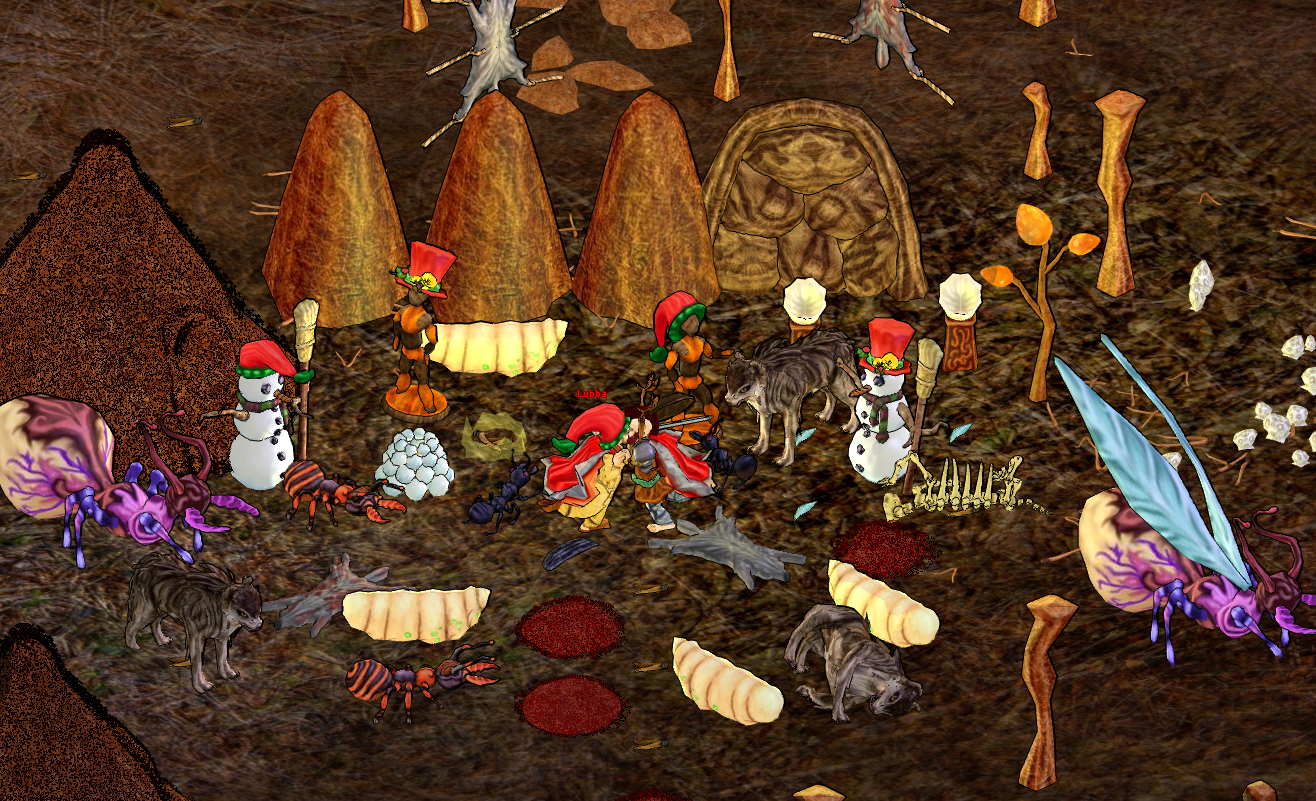 New Implementations
-----------------------
Added Ant Hill Dungeons. Occasionally when you raid Anthills, they may reveal themselves to be more than they first appeared. Key dropping rooms will continue to spawn enemies indefinitely. The ants are otherwise fairly weak.
Added Wolves. Wolves are aggressive pack animals found primarily in mountains, but once under a blue moon...
A fair amount of related stuff that you can discover for yourselves.
Credos
-----------------------
Herder:

You have traveled far and wide, and your herds have grown plentiful in your footsteps. You have become a Herder, always working diligently for the health and bounty of your animals and herds, grazing upon the lush grasslands of the hearth. You spend your days on horseback, tending to the needs of your flocks, keeping beasts of prey away, and following the seasonal migrations in search of greener pastures. The sagas say that the Old Gods once drove a herd of cattle across the firmament, and that the stars sprung to light where their hooves trod. Undertaking the Herders's Trek promises...




Wild animals always accept clover.
Your branded animals eat 20% less.
Pony Power of Horses lasts longer.
Your branded animals have shorter gestation periods.
Sizeable quality bonus to all domestic meats.
Herder depends on Farmer and Nomad.

As always, if you liked what we did here: Support the patch.
In light of the season, we made a bunch of hats!
... for the fair price of $5, we have the "Rudolf Kit".
Store Description wrote:

$5

You know Comet and Cupid and Donner and Blitzen, but do you recall the most famous reindeer of all?
... for the fair price of $5, we have the "Strawberry Santa".
Store Description wrote:

$5

A seasonal gift in reminder of another season yet to come!
... for the fair price of $10, we have the "Yule Top".
Store Description wrote:

$10

Why not top off the season with a seasonal top? Jingle-bells!
All Gold & Silver subscribers have been awarded the Rudolf Kit and the Strawberry Santa, free of charge. All Gold subscribers have also been awarded the Yule Top free of charge.
In the Pipe
-----------------------
The main dev focus is the client rendering rewrite.
Time to... like us on Facebook?
With this patch we'll be signing off for some R'n'R over the holidays, but we'll be right back with an announcement of things to come sometime in January. It's been an interesting year, and we have high hopes for the next. From all of us, to all of you. A very...
MERRY CHRISTMAS!
Enjoy!