We've been developing, and here's what's new.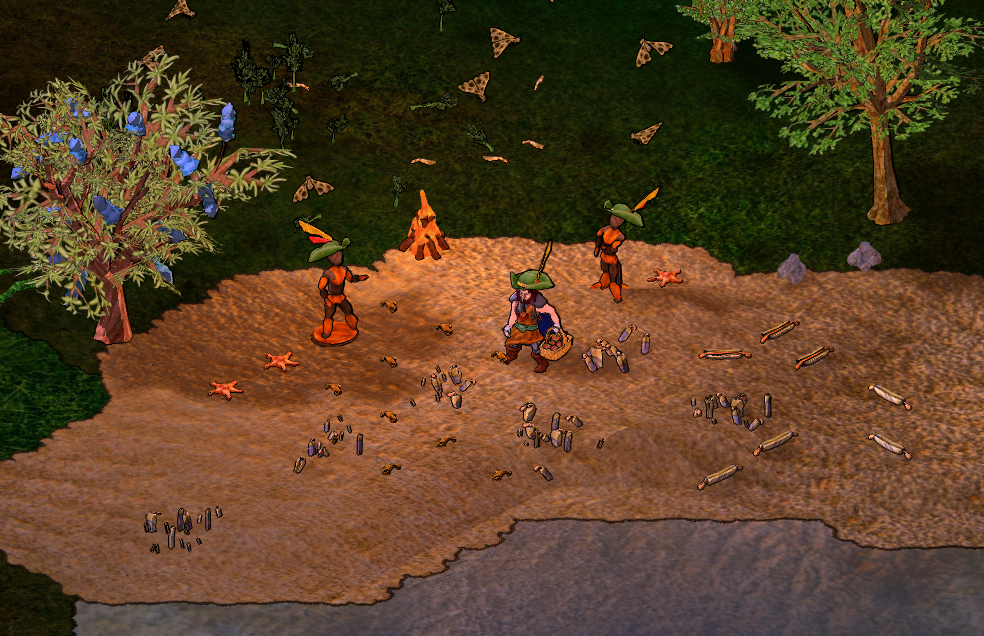 New Implementations
-----------------------
Added three types of fish.
Added a mollusk.
Added an echinoderm.
Smoking Pipeweed will now buff your Will, and reduce your travel weariness.
Key Fixes
-----------------------
Fixed a bug by which causing a lethal concussion would leave no murder scent.
Outlaws can now sleep, but can still be attacked in bed. Sleeping outlaws have some interesting graphical interactions going on (remaining clothed in bed, &c), but hey.
Your can no longer repair boats in deep or deeper water.
Reduced the travel weariness cost of hearthing home to 1%, rather than 5%.
You can no longer maintain more than three "Waylaid" buffs at one time. Acquiring more will remove the oldest.
Small Fixes
-----------------------
Wild Windsown Weeds can now be placed in Wicker Pickers. Reported here.
Fixed a bug by which you could fill Wicker Pickers from stockpile, &c, without having it equipped.
Fixed a bug by which the inventories of corpses were not closed when the corpses were moved.
Small land animals now drop into the water, rather than stand on it, and water striders stand still on land, rather than spazz out. Reported here.
Treeplanter's pot now requires plant lore.
Added a small notification when building a personal claim, indicating when the claim will activate.
Buffed Nine-tails.
Fixed a bug by which Herder quests would ask you to tether animals to rock quest givers, which can't be done. Reported here.
Fixed a bug by which being blocked from logging in would give you a free travel to your Hearth Fire.

As always, if you liked what we did here: Support the patch.
Today's Patch Item, for the fair price of $10, is the "Governor's Tricorne".
Store Description wrote:

$10

Govern the colonies in swag and style with this triangular topper. Top o' the mornin', govnah'!
All Gold & Silver subscribers have been awarded the Governor's Tricorne, free of charge.
In the Pipe
-----------------------
The main dev focus is the client rendering rewrite.
We're getting oriented post world reset, and this was mostly a smaller effort to fix some bugs and stuff. We'll try to deliver something slightly bigger next week, and we will also generally try for slightly larger patches than we have delivered during the fall. The client rendering rewrite will, however, still receive a significant amount of time.
We didn't get to considering swarm protection for siege machines, or the potential change to make Rage characters identifiable as such, but we will.
We broke an all time record in concurrent user numbers this Sunday, with 1680 Hearthlings online at the same time. Shit was truly crazy. Thank you for playing!
Time to... like us on Facebook?
Enjoy!