We've been developing, and here's what's new.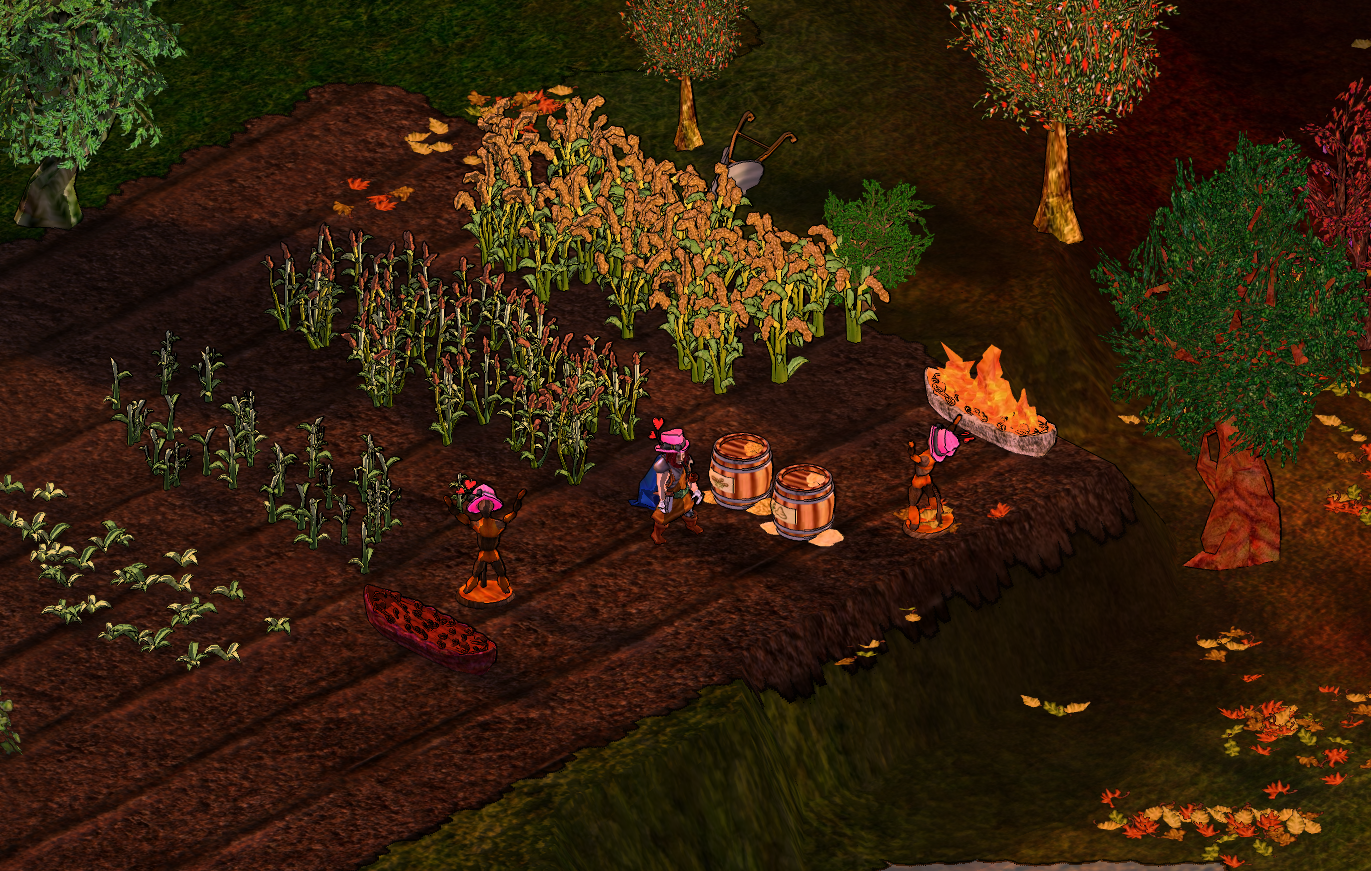 New Implementations
-----------------------
Added "Push". You may now push another Hearthling, interrupting any action he may be performing, and moving him forward about half a tile. Pushing deals no damage, but is a crime of assault. Pushing costs stamina, and has a short, regular, combat cooldown. The distance pushed is reduce if the pusher is weaker than the pushee, and if the difference is significant enough, the pusher will be unable to push at all. We have no idea what this does to anything, so we figured: Why not try it out!
Added "Millet", new grain type. Found where crop seeds are.
Added a burnout mechanic to Dugouts. In order to construct a Dugout you now need to first carve them, and then light them on fire to hollow them out. The burnout lasts for about an ingame hour. Should hopefully make them a tad less throw-away.
You may now have and buy multiple store hats of the same kind. Store hats are handled in a FIFO (first in, first out) list, for purposes of order of disappearance should you take a new copy out of your Hearth fire.
Added a fish.
Key Fixes
-----------------------
You should now be able to attack people standing inside their Hearth Fires. Reported here.
You may now inspect a Hearth Fire to check when the owner last logged in.
You may now remove locks from locked objects (doors, gates, chests), by holding the master key and right-clicking the object.
Satiations now last around two ingame days, rather than one.
Mine Supports (wooden) are now repaired with wood blocks, rather than metal nuggets. Three woodblocks repair a Mine Support fully.
Mine Beams and Stone Columns are now both repaired with metal nuggets. Three nuggets repair them fully.
Reduced damage to supports from preventing caveins from (50 to 100) to (10 to 20).
Buffed the durability of Mine Beams from 250 to 350.
Hoping the mine supports changes can alleviate this.
Bee Stings now reduce Agi by -1, rather than -2.
Wild Bees should now be somewhat tamer, and there should be fewer of them per hive.
Hoping the Bee Changes can alleviate this.
Small Fixes
-----------------------
Should now get discoveries from wild horse hides, dried and fresh. Cape awarded to jorb.
Should no longer get weird quests to level up 20-ish points when abandoning credos below a bonus level. Reported here.
Fixed a specific error message for when trying to mine under the ocean, rather than the confusing and erroneous "There's a cave entrance too close."
Raised the herb level of mistletoe significantly.
Dugouts can no longer be built with any sharp tool. You need an axe specifically.
Eased the building requirements on beaches. You can now build stuff like drying frames, fireplaces, &c.
Digging sand now caps quality by Masonry, rather than Survival.
Added an error message when trying to study A Bond of Blood & Soil without having the Yeomanry skill.
Only the original placer of a private claim may now complete it.
Seahorses can be stockpiled in fish stockpiles.
Fixed a problem with Fairy stones not always replenishing mushroom patches as it should. Reported here.
Fixed a problem by which fishing would sometimes stop without an error message.
Fixed a problem with the sodalite map texture.
Sorb apples and Medlars are now fruits. Reported here.
Fixed a presentation issue with planted Medlar trees.
Frog spawn should now spawn in swamps.
Animals can now pass through Hearth Fires. Reported here.
Rustroot can now be placed in wicker pickers. Reported here.
Fixed a problem with some fish types not giving discoveries properly. Reported here.

As always, if you liked what we did here: Support the patch.
Today's Patch Item, for the fair price of $10, is the "Valentine's Top".
Store Description wrote:

$10

Asking your darling dreamboat out on a date for Valentine's? Bring the heavy artillery to bear with this terrific top!
All Gold subscribers have been awarded the Valentine's Top, free of charge.
In the Pipe
-----------------------
The main dev focus is the client rendering rewrite.
We didn't get to considering swarm protection for siege machines, or the potential change to make Rage characters identifiable as such, but those changes are still on our radar.
Time to... like us on Facebook?
Enjoy!