We've been developing, and here's what's new.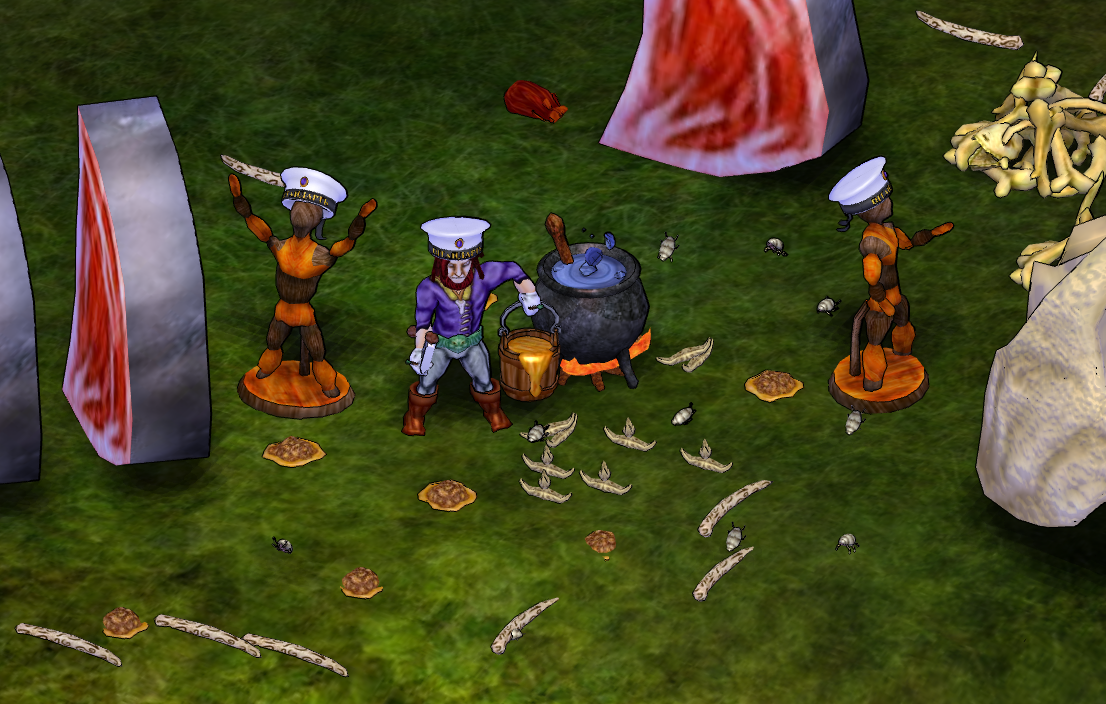 New Implementations
-----------------------
Added "Sand Flea", out to bite you. Bait.
Added "Cachalot Charm", amulet.
Added "Whaler's Jacket", jacket.
Added "Whalebone Scrimshaw", curiosity.
Added "Honey Gruel", food.
Added an animation when eating, and some sound when stuff on the table breaks.
Key Fixes
-----------------------
Winter has ended.
Buffed drinks. Approximately doubled base effects. Might help with this.
It should now be possible to destroy claims using a Siege Engine, regardless of whether they are active or not.
Scents have been easy to see, even with moderate amounts of perception/exploration. Adjusted this to something hopefully more reasonable, and also made it so that, the better roll you have when detecting a scent, the more uses it will have when collected. Stealth could perhaps be more relevant now.
Fixed a bug by which you'd sometimes not get a Wind Quest as intended. Sorry about that.
Small Fixes
-----------------------
Hearth Fires should no longer block roads.
Fixed an issue by which you had to relog to be able to describe recently memorized people.
Made it so that you can remove, by right-clicking them in the wounds list, stinging poultices, stitch patches, honey wayband, waybroads, and camomille compresses, at a cost of some Scrapes & Cuts.
Frogspawn quality should now be limited by the survival value.
Should now be Waterstriders in some wetlands.
Fixed an issue with planted Ghost-pipes appearing fully grown.
Should now learn input types from a bunch of various animal produce previously unlearnable: rabbit's foot, fresh bear hide, &c&c&c.
Can now empty half-full cheese trays. Reported here.
Should now get less pipe wheeze when smoking.
You can now put Cachalot steaks into Knarrs and Rowboats. Explicitly made it so that you can't put skulls or hearts in either.
Chef's Hat now gives some points of cooking.
Fixed a problem by which obscure angles of approach could make getting into dugouts difficult.
Made it so that you can plant fruits directly, without having to eat them first. Suggested here.
Fixed a bug by which quality bonuses from credos evaded the survival cap on animals.
You should now be the owner/last carrier of animals you kill. A person who hits an animal becomes its last owner.
Nerfed Kebab a bit. Sorry about that.
Fixed a bug by which it was possible to get negative FEP-values.
Fixed a bug with inconsistent naming of Honey Waybands.
Buffed Chasm Conch's ranged attack.
You can now dig sand and snow faster with a shovel. Reported here.
Fixed a bug by which you could get strange error messages when emptying wheelbarrows.
Fixed a bug by which the Cornucopia would take itself as input when crafting. Changed the recipe.
You can now use Yarrow on Midge Bites.
Fixed a small text issue in the Siegecraft text, and added a warning about the new knockout mechanics in the Rage text.
Fixed a bug by which wheelbarrows sometimes splurged their contents over the ground.
Fixed a bug with Woodland Realm giving +- growth speed, rather than only +.
Reduced the amount of meat from Aurochsen by a bit. Made it somewhat random whether you get one or two hides from them.
Can now put squirrel tails in hide stockpiles.
Wild Beehives & Mistletoe should no longer appear on growing trees. Reported here, among other places.

As always, if you liked what we did here: Support the patch.
Today's Patch Item, for the fair price of $10, is the "Imperial Navy Cap".
Store Description wrote:

$10

Set sail for better times aboard a ship of the Imperial navy. All aboard! Anchors aweigh!
All Gold & Silver subscribers have been awarded the Imperial Navy Cap, free of charge.
In the Pipe
-----------------------
Enjoy!