We've been developing, and here's what's new.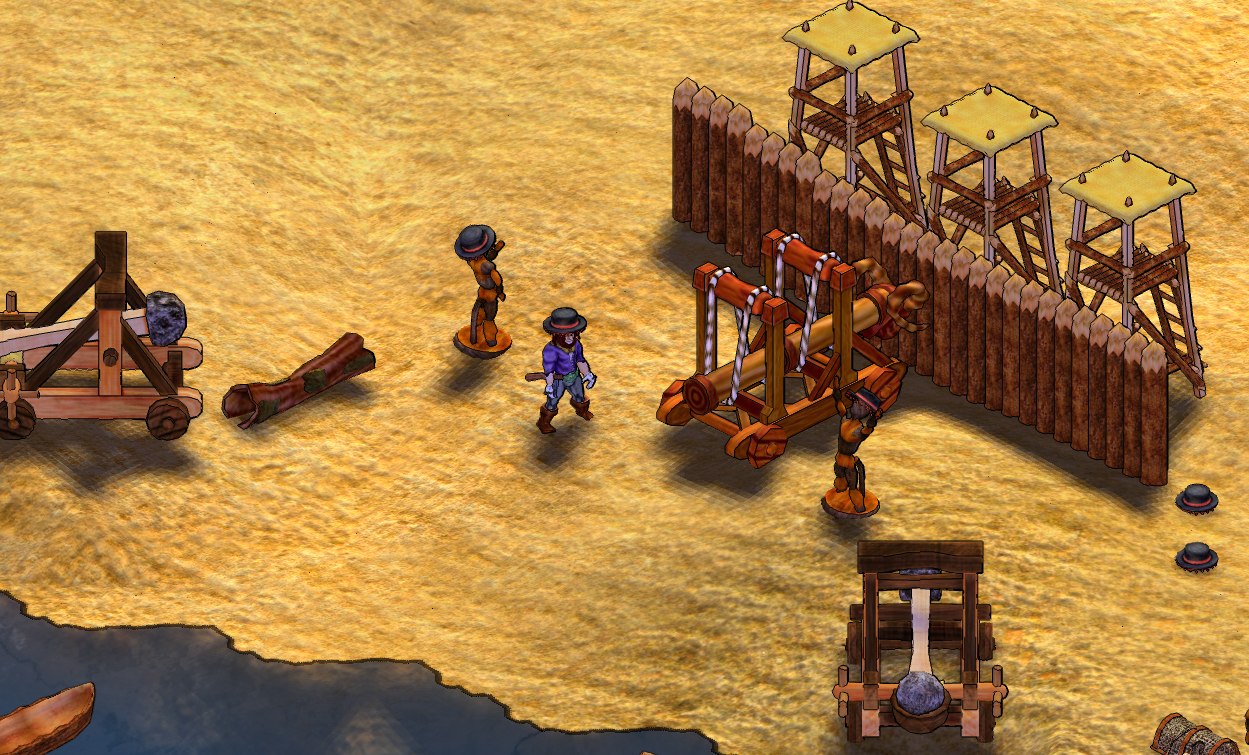 New Implementations
-----------------------
Began implementing siege changes as outlined in this thread.
Added Archery Towers. Archery towers can be loaded with arrows and automatically fire at, and damage, any siege machine within 180 degrees in front of them. They can be hand-bashed. Archery towers must be constructed at least five tiles away from other towers.
Catapults can no longer damage anything other than players and siege machines.
Battering rams are now required to destroy walls.
Siege Machines can now be locked. They are not pickable.
Siege Machines now need to charge up in order to attack certain things. They do so over time.


Archery towers need a one hour charge to attack other siege machines. They can never attack other archery towers.
Catapults and Battering Rams can attack Archery Towers, Catapults and Battering Rams after two hour's charge.
Battering Rams can attack Palisades after 24 hours, and Brick Walls after 32 hours.
After 48 hours, Catapults and Battering Rams will begin decaying over time.
After 60 hours, Archery Towers will begin decaying over time.

Catapults take damage when attacking. Battering Rams and Archery Towers do not.
Battering Rams take damage when moving, and will need to be repaired after each move. A Battering ram can move 7.5 tiles per move. Repairs take an hour.
Catapults take damage when moving. They can move 4 tiles before they need repairs.
Repairs incapacitate Towers and Siege Machines for one hour.
Claims are notified when a Siege Machine is 24 hours away from possibly attacking it, whether the machine was constructed within range, or moved within range.
Added a small exclusion zone around catapults and battering rams to prevent them from being used to block people.

DO NOTE:

It is still possible to bash siege machines by hand, and we intend to change this slowly, and conservatively. For now: Only a fixed amount of damage can, when destroying by hand, be dealt to Catapults and Battering Rams per unit of time. In order to destroy a Siege Machine, you will have to whack at it for about five minutes.
We're unsure of the implications of these changes, and open to any and all suggestions. The idea is to add more gameplay to the siege experience, and make it a reasonably fun and balanced experience for everyone involved. Fully possible that this makes no one happy, but if siegeing was impossible as it was, I do at least not think that we've changed too much about that in one go.
Key Fixes
-----------------------
Reverted the Knarr Travel Weariness from last patch, so that it should now always be possible to travel to Dock. You still do get travel weariness from doing so.
Fixed a bug by which you could use gilding song on multiple items to get down into negative XP.
Increased the building cost of Realm Carins significantly, and enforced greater distances between them.
Small Fixes
-----------------------
Cleaned up some hotkey conflicts under the build menu and moved Display Sign, Written Sign and Runestone to Furniture -> Signs & Display.
Fixed an obsolete error message where battering rams complained about the glue being too fresh, rather than the brimstone. Rum, sodomy, and the lash awarded to loftar.

As always, if you liked what we did here: Support the patch.
Today's Patch Item, for the fair price of $10, is the "Flamenco Bobble Trim".
Store Description wrote:

$10

Let the rhythm of the dance sweep you away in fiery flamenco! Arriba!
All Gold and Silver subscribers have been awarded the "Flamenco Bobble Trim", free of charge.
In the Pipe
-----------------------
Enjoy!