We've been developing, and here's what's new.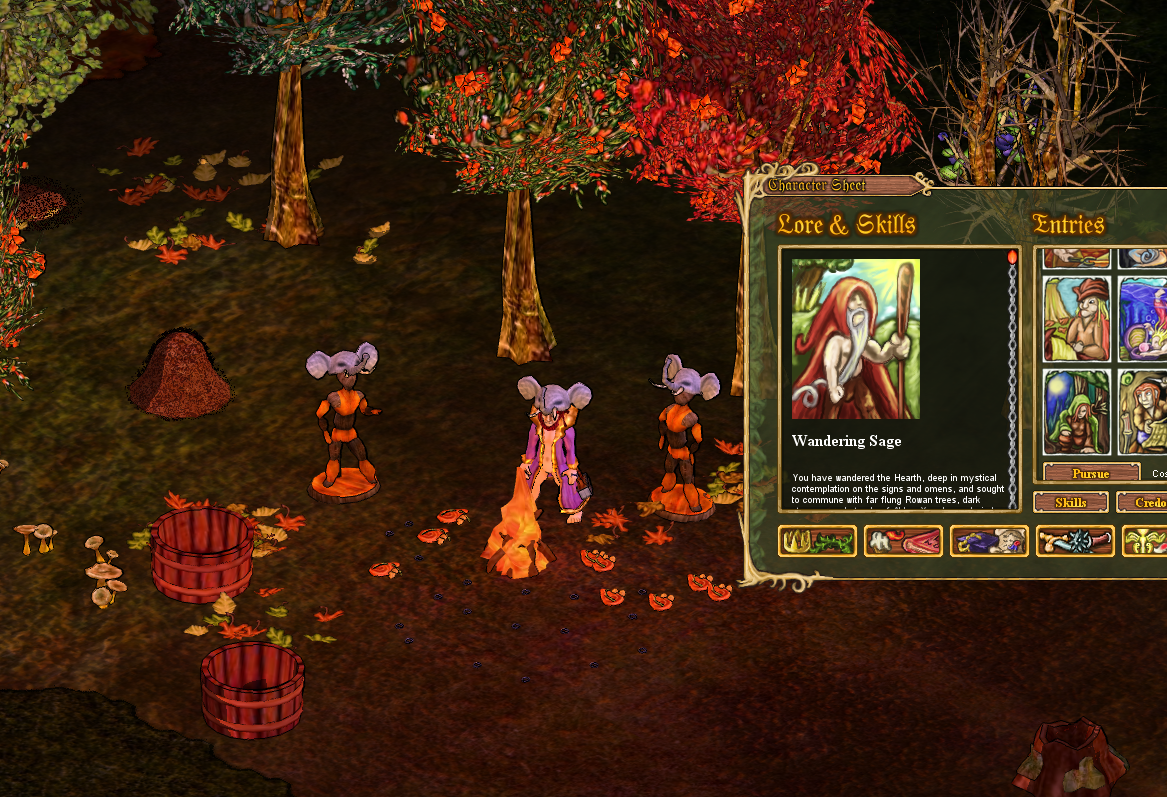 New Implementations
-----------------------
Added "Meteoring", ring made from Falling Star materials.
Added "Chewy Chevon", food. Suggested here.
Credos
-----------------------
Wandering Sage:

You have wandered the Hearth, deep in mystical contemplation on the signs and omens, and sought to commune with far flung Rowan trees, dark streams, and stands of Alder. Your learned wisdom exceeds most, and yet new depths of ignorance reveal themselves behind each new revelation of spirited nature. You can hear the spirits of things vast and faint whisper to you from the shadowy world beyond the veil of the Hearth, and they trace your footsteps wherever your wanderlust aching takes you. Meditation, and the journey as a goal in itself, are your lodestars. You have seen, in terrifying visions, how the Old Gods rode in chariots of Ash and Bronze, thundering over the ancient steppes in ages beyond reckoning, and your feet long always to trace those furrows. Embarking on the Wandering Sage's Pilgrimage promises...




Gain less Travel weariness.
+5% experience gain.
Reduced stamina drain from walking.
Frequent experience gain when seeing natural wonders.
Chance for additional increases to local qualities when completing quests.

Wandering Sage depends on Mystic and Nomad.
Key Fixes
-----------------------
Changed satiation scaling to something significantly milder. Drinks still retain the old scaling. Consider this a band-aid.
Activating a wilderness beacon is now a crime of vandalism.
You can now evict people on wagons and chairs.
Small Fixes
-----------------------
Fixed a small issue with ant mobs in dungeons getting stuck behind pillars and such.
Curding Tubs should now always, in the presence of rennet, attempt to create a final curd out of any milk residue left in the tub. Point being that tubs should now always empty out fully if there is rennet still inside them, leaving no residue, which could avoid a problem of contaminated tubs.

As always, if you liked what we did here: Support the patch.
Today's Patch Item, for the fair price of $10, is the "Elephat".
Store Description wrote:

$10

Trumpets blast for the king of the savannah! You too can feel the call of the herd in this elefantastic headgear!
All Gold & Silver subscribers have been awarded the "Elephat", free of charge.
In the Pipe
-----------------------
Enjoy!