We've been developing, and here's what's new.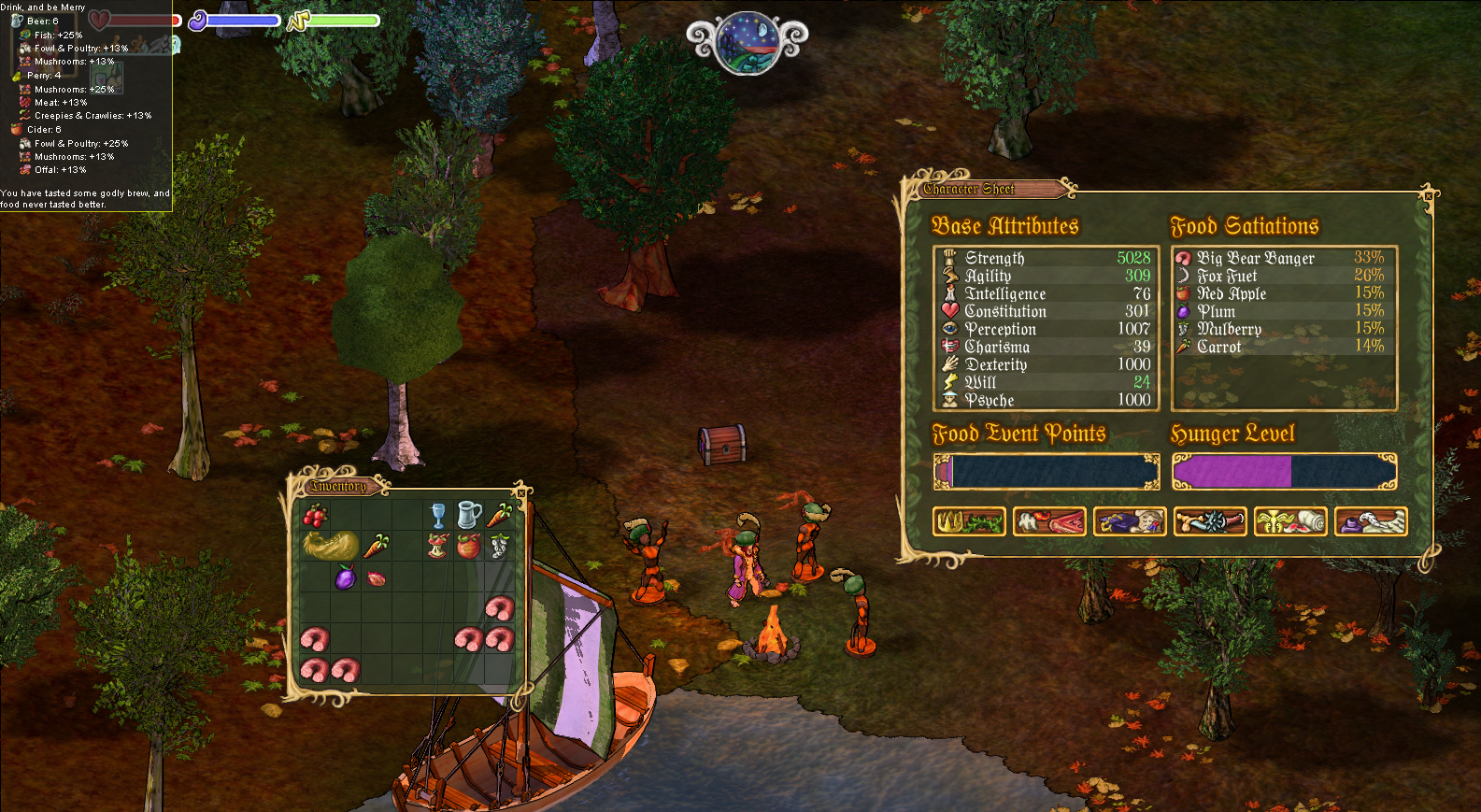 New Implementations
-----------------------
Reworked satiations. Instead of food items satiating broad food groups when eaten (Meat, Sausages, Bread, &c) they now only satiate themselves, each effectively having a food group of its own. All food stuffs satiate equally, and there is no randomness or distribution.
Drinks, under the new system, can be used to partially prevent/soften satiations. Each drink gives you points in the traditional broad food categories (Meat, Sausages, Bread, &c), accrued in a new buff called "Drink, and be Merry", and every time you then eat, some amount of incoming satiation will be prevented, and a point deducted from the drink category which was used to soften the satiation. Drinks can, naturally, only prevent satiations from the food groups they give points in. Do note that only one drink (the best available) will be used to soften an incoming satiation, so the incentive is hopefully not to necessarily spam all of them.
If not consumed by food, "Drink, and be Merry" lasts about an ingame day.
We're hoping that this system is somewhat more lenient than the old, and also hopefully somewhat more conducive to a varied diet. Let us know how you do with it.
Small Fixes
-----------------------
Black Truffles now spawn in spring, summer, and fall.
Moved the Kebab recipe to "Sausage Making".
Made it so that you cannot raise fishing nets without the "Fishing" skill.
Quality when butchering fish is now soft capped by tool quality and survival skill. Quality when butchering small animals is also affected by tool quality and survival skill, but only in the first butchering stage.

As always, if you liked what we did here: Support the patch.
Today's Patch Item, for the fair price of $10, is the "Leonardo's Cap".
Store Description wrote:

$10

Become the father of all invention, dressed up in the renaissance fair prop par excellance, the Leonardo's Cap!
All Gold & Silver subscribers have been awarded the "Leonardo's Cap". free of charge.
In the Pipe
-----------------------
UPDATE YOUR CLIENTS
... if you want to display meat types and the satiation table properly.
Enjoy!