We've been developing, and here's what's new.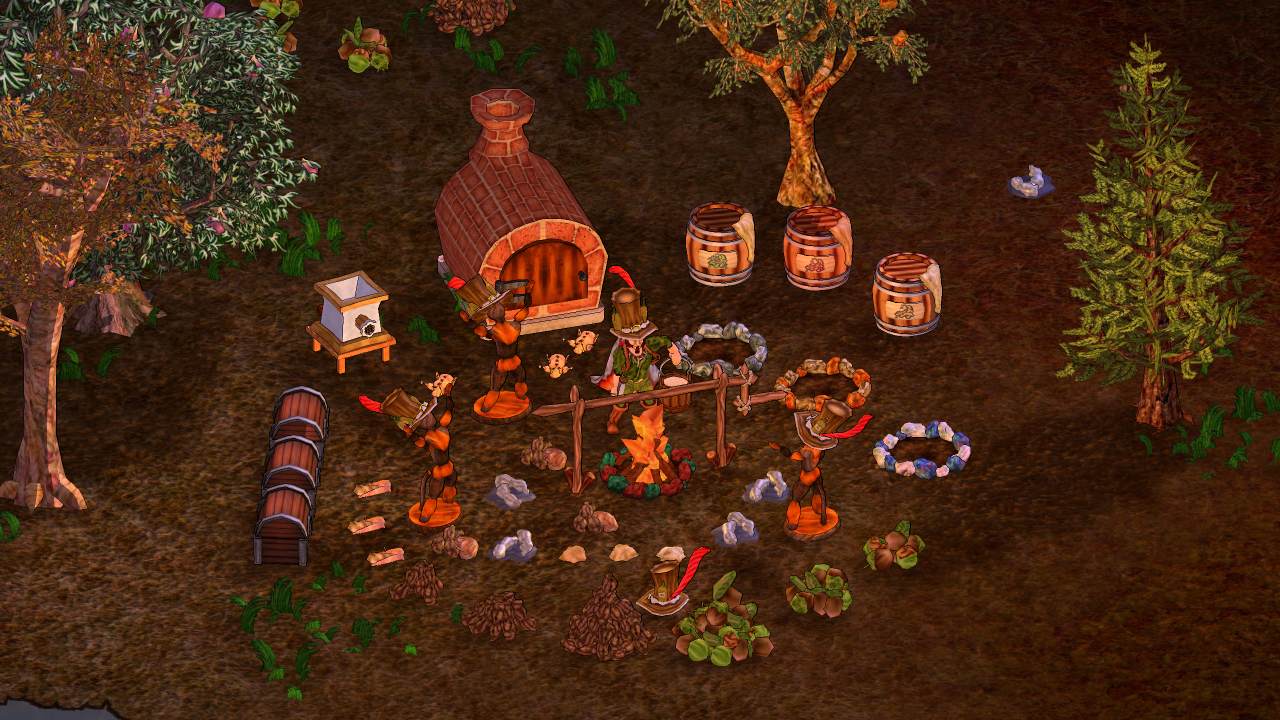 New Implementations
-----------------------
Added "Stuffing". There are now three types of craftable stuffing: Meat, Vegetable, and Mushroom. Some recipes require stuffing.
Added "Packed Pouch", a stuffed "Pelican's Pouch". Food. Bake in Fireplace or Oven.
Added "Stuffed Bird", food. Bake in Fireplace or Oven.
Added "Boiled Odds", food.
Added "Odds & Ends", food.
Added stockpile for "Nut"s. Infinite capacity... or 35, as the case may be.
Added stockpile for "Odd Tuber"s. Infinite capacity... or 35, as the case may be.
Key Fixes
-----------------------
Map markers on the world map now present, and may be sorted and displayed by, their types. Click a type icon to toggle display.
You may now remove quicksilver from "Glass Pane Frame"s, using a vessel of your choice.
"Barrel"s and "Cistern"s, and "Demijohn"s now present the full tooltip for their contents in their interfaces, including quality, food buffs, &c.
Generic vessels now present their volume capacity in their crafting-menu tooltips.
Added variable materials to "Fireplace". Do note that this implied a change to the boundingbox of the Hearth Fire, as they share the same resource, so report any oddities that may appear from that change. None expected, really, but nevertheless.
Small Fixes
-----------------------
If you Shift+Mousewheel over the "Display provinces" button in the world map, you can change the opacity of the overlay. Will add a tooltip explaining this at some point, but better secret than not at all.
Redrew "Beeswax" and "Wax Candle" icons in higher resolution.
Began redrawing the various bucket icons. Did the base layer, water, and alphabetically up until "Barley Flour". Many to go.
Odd Tubers now count as a "Tuber" for recipes requiring those.

As always, if you liked what we did here: Support the patch.
Today's Patch Item, for the fair price of $9, is the "Rum Smuggler's Hat".
Store Description wrote:

$9

This hat crossed the border at midnight, carrying a secret cargo of contraband for speakeasies and backroom bars.
All Gold & Silver subscribers have been awarded the "Rum Smuggler's Hat", free of charge.
In the Pipe
-----------------------
Spent some time this week working toward instanced rendering of variable material objects. Didn't quite get there, but working on it.
Again urging any custom client maker who wishes to stay relevant to get with the new rendering times. Support for the old resources will be dropped at some point.
Our primary development direction is toward object-controlled-objects.
Time to... like us on Facebook?
Time to... follow us on Twitter?
Enjoy!