We've been developing, and here's what's new.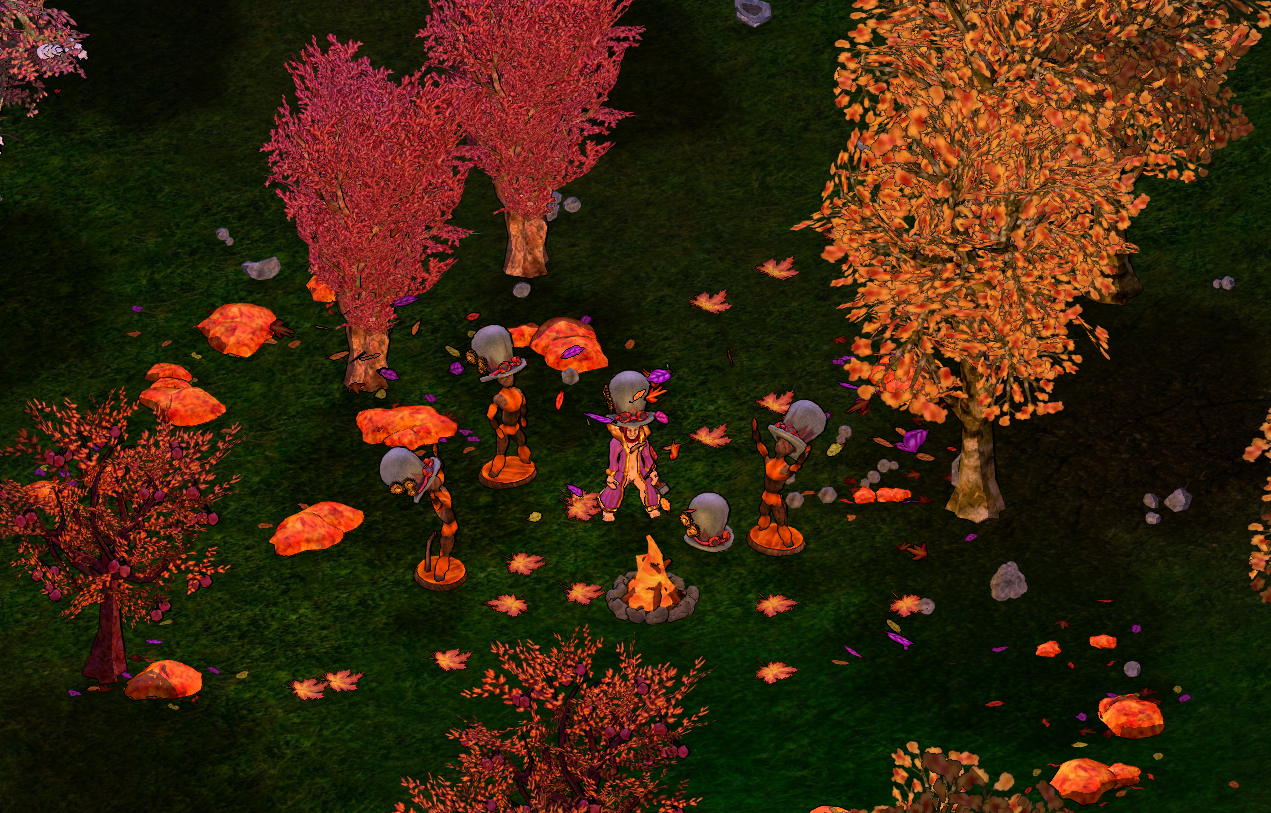 New Implementations
-----------------------
Added Leaf Piles. As autumn progresses, more and more natural leaf piles will appear. Players can run through them, and scatter the leaves, and they will occasionally drop things. Fun! Feel free to suggest additions to their loot tables.
Added "Perfect Autumn Leaf", curiosity, forageable.
Key Fixes
-----------------------
Animals now eat only about 50% during winter.
Villages using "Revoke the Privilege" have since May of last year been capable of revoking personal claims older than themselves, provided that they are within 90% of the age of the claim being revoked. Apparently we never seem to have posted about this change, but we have now updated the description of the action to reflect the accurate situation.
We have taken some impression from the requests for a better default client, and have at least investigated some cursory features that we are looking to add to it. For now we have implemented a "Drop all of type to ground" acchord, which you can activate with Alt-Ctrl-LMB on an item.
Small Fixes
-----------------------
Being knocked out by catapult should now remove the Red-handed debuff, as a general consequence of being knocked out. Near key fix.

As always, if you liked what we did here: Support the patch.
Today's Patch Item, for the fair price of $10, is the "Clockwork Hat".
Store Description wrote:

$10

Tick-tock, goes the clock! Take a more gaslit view of the Hearthlands, dressed in a goggled Clockwork Hat of steamworks and magick obscura!
All Gold subscribers have been awarded the "Clockwork Hat", free of charge.
In the Pipe
-----------------------
We have begun, and are primarily, working on a combat rewrite.
We would like to change the key layout for the item transfer chords to a more consistent setting, i.e...


Ctrl-LMB: Move an item
Ctrl-Shift-LMB: Move all items of type
Alt-LMB: Drop an item
Alt-Shift-LMB: Drop all items of type

... but are somewhat afraid of upsetting long standing precedents. Please advise with your 'pinions on the matter.
The main dev focus is the client rendering rewrite.
I will be streaming on Saturday at 19:00 UTC.
Time to... like us on Facebook? We hit a thousand likes last week, so that's cool, if Boomerbook things can ever be called that.
Enjoy!