We've been developing, and here's what's new.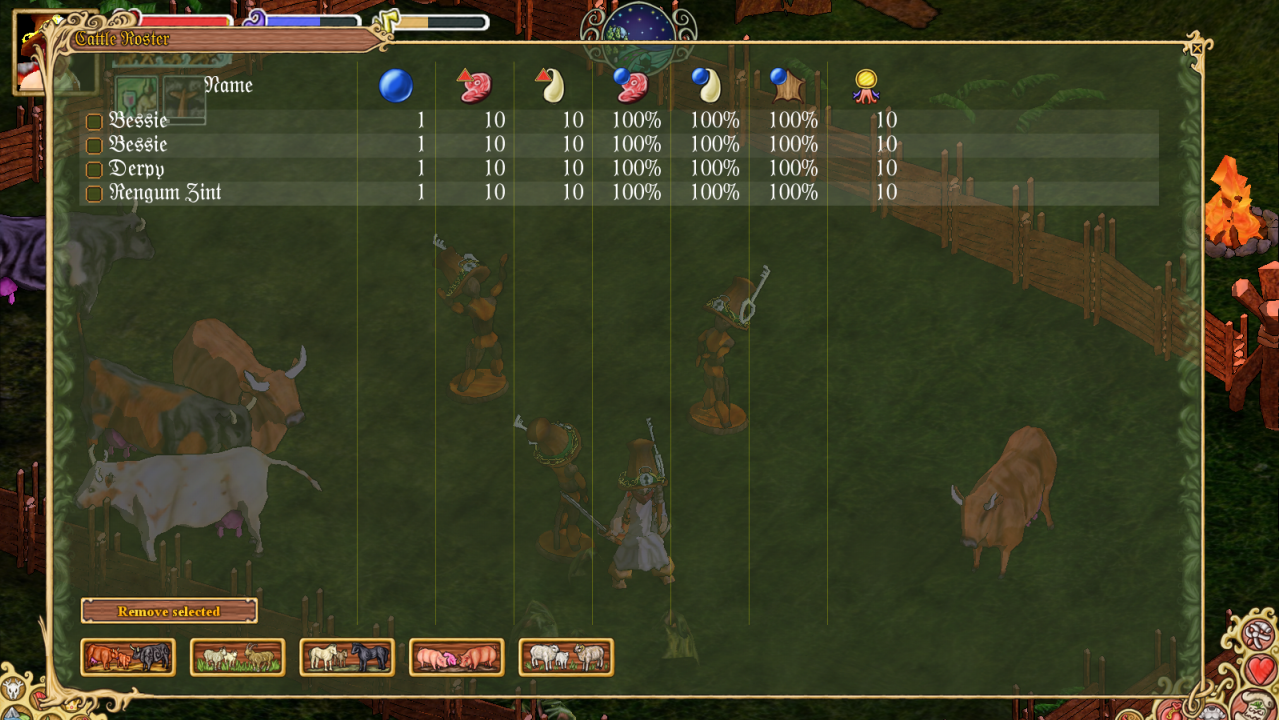 New Implementations
-----------------------
Added "Cattle Roster". Domesticated animals can now be "Memorized" from their flower menus, and doing so adds them to your Cattle Roster. The Cattle Roster provides a quick and easily accessible overview of known animals, where you can sort them by their names and other various qualities. Should simplify management of them significantly. You can find it under "Adventure" -> "Cattle Roster".
Key Fixes
-----------------------
Fixed a long standing graphical issue by which the tile transitions would throw weird little shadows over water. Very nice if you were ever bothered by it/noticed.
Redrew the horizon meter in 4x size (shown here in 2x) to support higher UI resolutions. Sun and moon still not redrawn.

Redrew the menu down element in 4x size (shown here in 2x) to support higher UI resolutions.

Small Fixes
-----------------------
Fixed a bug with flags not displaying.
Added candle light to the miner's helm when lit.

As always, if you liked what we did here: Support the patch.
Today's Patch Items, for the fair price of $9 is the "Lock & Key"
Store Description wrote:

$9

The silver key unlocks the golden chain, but what strange treasure, or hidden wisdom, is held in chains?
All Gold & Silver subscribers have been awarded the "Lock & Key", free of charge.
In the Pipe
-----------------------
Again urging any custom client maker who wishes to stay relevant to get with the new rendering times. Support for the old resources will be dropped at some point.
An update to the server-client protocol is the next project in the pipe. It is a relatively limited scope project to allow for better definitions of objects in relation to other objects (E.g. bubbling retort standing on lit tripod burner with variable materials, standing on an Alchemist's table. That kind of stuff). One upside is that it could allow us to add variable materials to tools and equipment. This is necessary for the next project after, namely Object Controlled Objects, which we consider the next major milestone in development.
Time to... like us on Facebook?
Time to... follow us on Twitter?
Enjoy!