We've been developing, and here's what's new.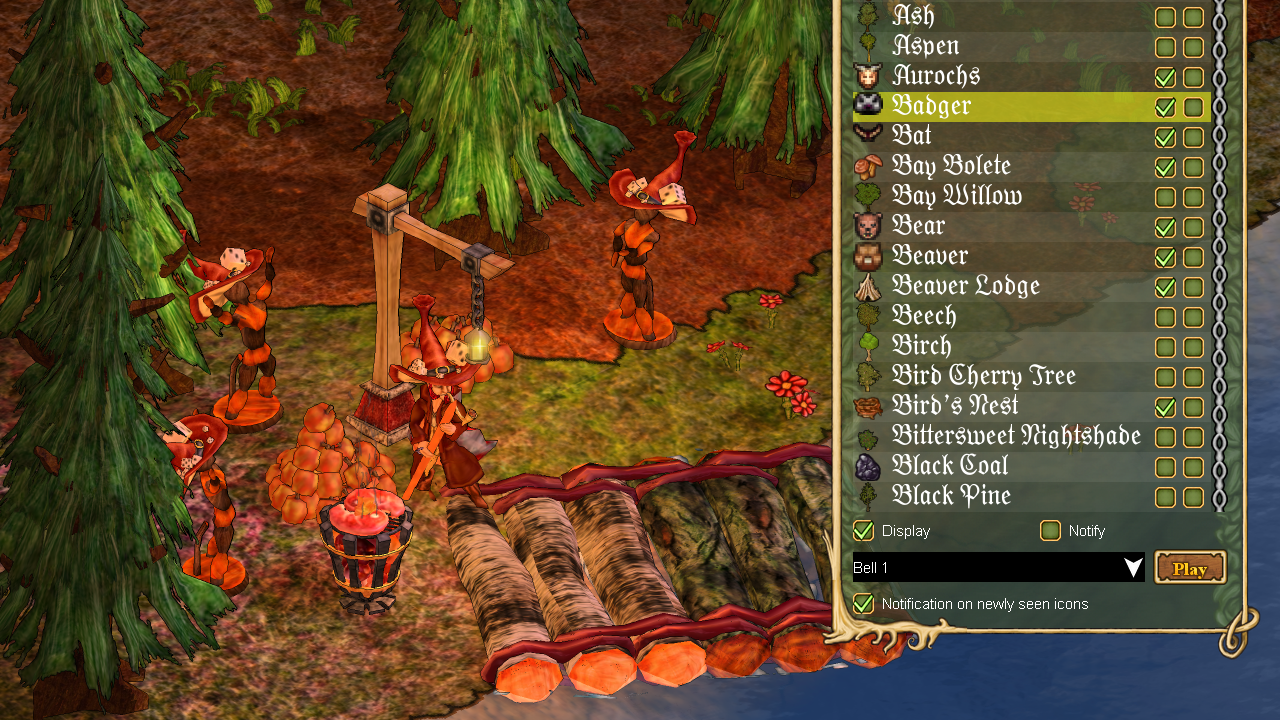 New Implementations
-----------------------
Added support under the "Icon Settings" menu for playing notifications upon seeing map icons. You can set a variety of sounds, and there is a flare effect on the minimap as well.
Added "Sorb Apple" stockpile.
Key Fixes
-----------------------
Added variable materials, a water wake effect, and a small bobbing-in-water animation to "Raft"s.
Battering Rams should now generally be better at hitting things in front of them, irrespective of rotation.
Catapults can fire in any direction even if their rotation in that direction is prevented.
Small Fixes
-----------------------
Added a 2D overlay light effect to "Lantern"s and "Irrlantern"s.
Added some rising smoke to "Grid Iron" when frying stuff on it.
Added explanatory text to "Cut Gemstone" action.
Action menu tooltips now show HP and approximate damage on siege engines. Damage not shown on rams since it varies a great deal with the people operating it, and perhaps doesn't actually matter that much.
You can now inspect rubble left by "Archery Tower"s to see how long it will last.
"Archery Tower"s now drop their arrows when they get destroyed.

As always, if you liked what we did here: Support the patch.
Today's Patch Item, for the fair price of $9 is the "D6 Hat".
Store Description wrote:

$9

Far less random than it seems, most of these dice are loaded.
All Gold subscribers have been awarded the "D6 Hat", free of charge.
In the Pipe
-----------------------
We are working on a conversation system for quest givers, which is currently our bigger project (tm). Making progress, but patches may not be weekly.
Again urging any custom client maker who wishes to stay relevant to get with the new rendering times. Support for the old resources will be dropped at some point.
Our primary development direction is toward object-controlled-objects.
Time to... like us on Facebook?
Time to... follow us on Twitter?
Enjoy!