Pretty much how NFT art works. BUT he is missing one thing! whoever owns the NFT owns that arrangement of pixels.
But honestly I agree wtf?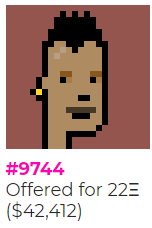 It works for games because you limit the amount of items and then put it out that only 100 of those hats can ever exist in cyberspace.
But honestly another bullshit because if you own a hat in a game, no other game has to let you bring your hat over (there is some NFT games that allow any NFT...)
But... it all makes no fking sense!